THE GROWTH OF EPITAXIAL METAL OXIDE THIN FILM FOR SOLAR WATER SPLITTING
Recently, in photoelectrochemical (PEC) water splitting, metal oxide semiconductors has attracted a lot of interest as promising photoelectrode materials to utilize environmentally friendly energy such as sunlight. In this trend, we have fabricated epitaxial metal oxide thin films for PEC water splitting.
The growth of epitaxial metal oxide thin films could maximize the potential of the oxide thin film photoelectrodes and seek further breakthrough development by exploring its fundamental properties such as anisotropic properties, the effects of a doping profile, biaxial strain, and the manipulation of its band structure.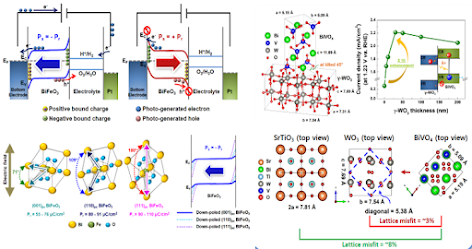 IMPROVED WATER SPLITTING REACTION OBTAINED BY ADOPTING NANOSTRUCTURES AND HARNESSING PLASMONIC RESONANCE IN METAL NANOPARTICLES.
In order to improve the water splitting reaction, we have synthesized BiVO4 photoelectrodes with ZnO nanorodes or Ag nanoparticles. As a results, the carrier generation and separation in the BiVO4 were significantly enhanced. The enhancement mechanisms can be explained in terms of the increased surface area, the appropriate band alignment of the BiVO4 and the ZnO, and the plasmonic resonance-mediated effects of the Ag nanoparticles.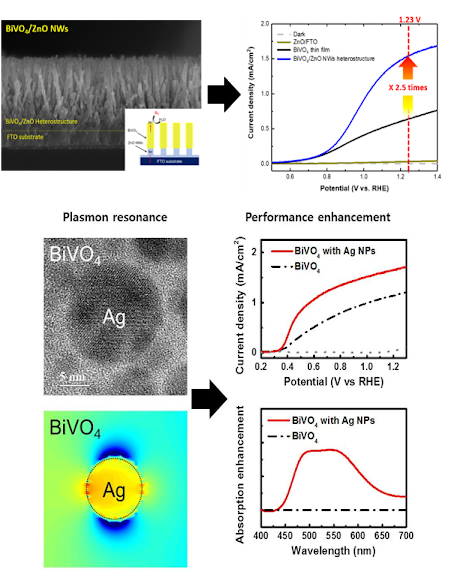 EMERGENCE OF MULTI-CAPACITANCE IN PEROVSKITE OXIDE FILMS
Materials with electrically modulated capacitances could resolve fundamental problems of current semiconductor technology which are related to the increase of power consumption. Based on the first principle calculation, multicolor dielectric materials and their novel structures are throughly explored to discover new materials of which capacitances are easily controlled via electric fields.
A novel multi-capacitance can be emerged in the materials by multiple phase transition or broken symmetry through strain engineering. Here, we characterized multi-capacitance in tensile strained SrMnO3 film and BaTiO3/SrTiO3/CaTiO3 tri-color film.
IRON BASED SUPERCONDUCTOR THIN FILM GROWTH
We have fabricated highly epitaxial iron based superconductor thin films using pulsed laser deposition. Especially, we have improved superconducting properties by artificially controlling the amount and shape of various pinning centers with maintaining crystallinity. In addition, we investigated the cause of Tc increase of iron chalcogenide thin films through precise composition analysis for the first time.