In situ nucleation study of compound nanowires
One of the key obstacles to the implementation of self-assembled growth processes in real devices architectures is the inherent lack of control over 'nucleation' or onset of wire growth. It is important to reliably form one wire at every location on which a catalyst is present. We carry out in situ nucleation experiments, using diffraction contrast imaging in the plan view and the cross view geometries as a function of catalyst size, alloy composition, growth temperature, pressure and surface condition.
Real time TEM can also provide basic insights into nanowire growth mechanisms because it can be used to determine growth kinetics quantitatively. We plan to explore various mechanistic aspects of nanowire growth in compounds systems as a function of pressure, temperature, and catalyst size.
Growth mechansims of NWs
Correlation between catalyst size, NW diameters and growth kinetics
Kinetics at catalyst-solid interface
Catalyst stability and wire morphology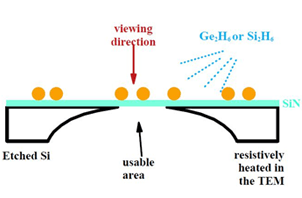 In situ nucleation and growth kinetics of nanostructures using chemical solutions in liquid flow cells
Liquid-phase processes are important over a wide range of areas in science and technology, including biological activity in cells, biomineralization, the low-cost synthesis of nanoparticles and electrochemical reactions for energy storage. Electron microscopy opens a unique window into structures and processes in the liquid phase, as it provides a combination of temporal and spatial resolution that is not achievable with other techniques.
We focus on the following topics to understand the physics underlying the phenomena occurring during each of the processes.
Nanoparticle nucleation and growth
Nanowire nucleation and growth
Battery applications
Biological and medical applications
In situ thermoelectrical properties of oxide nanowires with phase transformatio
Strongly correlated materials (SCMs) exhibit a variety of remarkable physical properties, such as metal-insulator transition, high temperature superconductivity, and colossal magnetoresistance, resulting from complex interplays between electrons, phonons, spin, and lattice degrees of freedom. Among the widely studied SCMs, vanadium dioxide (VO2) has been highly recognized due to its first-order metal-insulator transition (MIT), coupled with a structural phase transition from a high-temperature tetragonal rutile-type phase (R, space group P42/mnm) to a low-temperature monclinic phase (M, space group P21/c) at the temperature of ~ 340 K.
We investigate the properties of the MIT in VO2 by taking into account with stoichiometry, doping, external strain, interfacial stress, and defects. Also we take advantages of heating and electrical probing holders within a high resolution TEM to uncover the fundamentals with respect of physics and material science.
Piezoelectric and ferroelectric nanowire applications
Due to the polarization of ions in a crystal that has non-central symmetry, a piezoelectric potential is created in the crystal by applying a stress. For materials such as ZnO, GaN, and InN in the wurtzite structure family, the effect of piezopotential on the transport behavior of charge carriers is significant due to their multiple functionalities of piezoelectricity, semiconductor and photon excitation, thereby creating such new fields as piezotronics, and piezo-phototronics for FETs, LEDs, Solar cells.
Utilizing our capability of in situ microscopy, we develop methods for nanowire integration and create novel structures such as p-n homojunction, superlattice, and kinked nanowires.