Nanowire nucleation
We measured the nucleation and growth kinetics of solid silicon (Si) from liquid gold-silicon (AuSi) catalyst particles as the Si supersaturation increased, which is the first step of the vapor-liquid-solid growth of nanowires. Quantitative measurements agree well with a kinetic model, providing a unified picture of the growth process. Nucleation is heterogeneous, occurring consistently at the edge of the AuSi droplet, yet it is intrinsic and highly reproducible. We studied the critical supersaturation required for nucleation and found no observable size effects, even for systems down to 12 nanometers in diameter.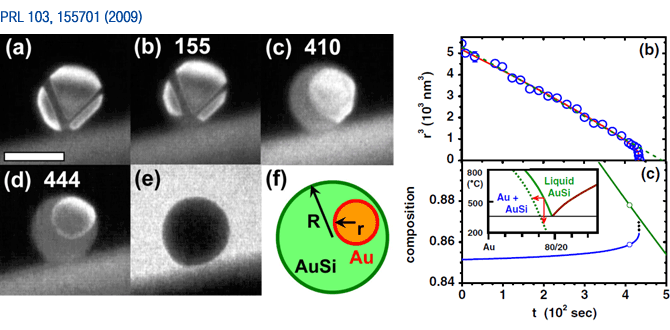 We expose a Au particle to disilane gas, and observe the transition from a two-phase Au + AuSi system to single-phase AuSi. Size effects are evident in the nonlinear disappearance of the solid Au. Our analysis shows a substantial shift in the liquidus line, and a discontinuous change in the liquid composition at the transition.
We have investigated the processes by which Ge nucleates from Au below the equilibrium eutectic temperature and at low pressure, explaining the three observed pathways, VLS, mixed and VSS, through a model based on one key parameter, the Ge nucleation rate. The scale bars for all images are 30 nm.
Nanowire growth
High temperature thermal decomposition of GaN in a vacuum yields nanoscale Ga liquid droplets and gallium/nitrogen vapor species for the subsequent GaN nanowire nucleation and growth via self-catalytic VLS process.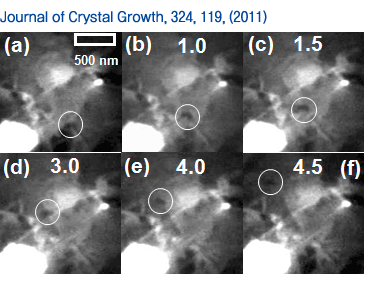 We studied the formation of negative nanowires created by thermal decomposition of single crystal GaN. During annealing, vertical negative nanowires are formed in [0001] by preferential dissociation of GaN along the[1010]prism planes, while lateral negative nanowires grow in close-packed[1010] by the self-catalytic solid?liquid?vapor (SLV) mechanism
In situ transmission electron microscopy monitoring unveils the formation mechanisms and kinetics of ZnO nanostructures including nanoscale depressions, nanoholes, nanoribbons, and nanosheets.
Nano island decay kinetics
We examined the congruent vaporization of ZnO islands using in situ transmission electron microscopy. Correlating quantitative measurements with a theoretical model offers a comprehensive understanding of the equilibrium conditions of the system, including equilibrium vapor pressure and surface free energy.
The motion of Au between AuSi liquid eutectic droplets, both before and during vapor−liquid−solid growth, is important in controlling tapering and diameter uniformity in Si nanowires. We measure the kinetics of coarsening of AuSi droplets on Si(001) and Si(111), quantifying the size evolution of droplets during annealing in ultrahigh vacuum using in situ transmission electron microscopy.
For individual droplets, we show that coarsening kinetics are modified when disilane or oxygen is added: coarsening rates increase in the presence of disilane but decrease in oxygen. Matching droplet size measurements on Si(001) with coarsening models confirms that Au transport is driven by capillary forces and that the kinetic coefficients depend on the gas environment present. We suggest that the gas effects are qualitatively similar whether transport is attachment limited or diffusion limited. These results provide insight into manipulating nanowire morphologies for advanced device fabrication.
Nano device characterization with in situ TEM
We report a morphotropic phase transformation in vanadium dioxide (VO2) nanobeams annealed in a high-pressure hydrogen gas, which leads to the stabilization of metallic phases. Structural analyses show that the annealed VO2 nanobeams are hexagonal-close-packed structures with roughened surfaces at room temperature, unlike as-grown VO2 nanobeams with the monoclinic structure and with clean surfaces. Quantitative chemical examination reveals that the hydrogen significantly reduces oxygen in the nanobeams with characteristic nonlinear reduction kinetics which depend on the annealing time.
Surprisingly, the work function and the electrical resistance of the reduced nanobeams follow a similar trend to the compositional variation due mainly to the oxygen-deficiency related defects formed at the roughened surfaces. The electronic transport characteristics indicate that the reduced nanobeams are metallic over a large range of temperatures (room temperature to 383 K). Our results demonstrate the interplay between oxygen deficiency and structural/electronic phase transitions, with implications for engineering electronic properties in vanadium oxide systems.