Research
In the near future, portable electronic devices, such as cellular phones, electronic papers, solar cell arrays, and others, are going to require light weight and mechanically flexible designs in order to reduce the handling constraints. In particular, biomedical implantable electronics are required to be both bio-compatible and stretchable or compressible such that they can conformally be placed on human body parts or other movable systems.
In order to develop the related materials and devices using conventional planar-based microelectronics processing technology, transfer technology from a flat to a non-planar geometry is one of the challenging issues. In this flexible electronics laboratory, we pursue developing micro/nano-scaled opto/electronic organic/inorganic materials and reorganizing them into 2- or 3-dimensionally stretchable/compressible functional devices. Specifically, we focus on developing various flexible electronic devices such as non-planar and stretchable/compressible biomedical smart gloves, multi-functional cloths, detectors, display devices, solar cell arrays, and bio-mimic systems that respond to environment stimuli.
Research topics
Flexible organic/inorganic opto/electric materials and devices
Stretchable/compressible display devices
Biomedical functional devices
Non-planar electronic devices
Boi-mimic materials and devices
Basic strategy for flexible device
Technical Approach
From brittle to flexible (Thin materials enables flexibility)
First, development of thin electronic materials is needed to enable flexibility.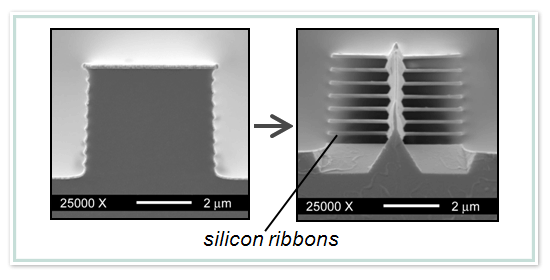 (Processing strategy of flexible micro/nano flexible single-crystal silicon structure from a bulk wafer)
From flexible to stretchable(Pop-up bridge enables stretchability)
Second, mechanical deformation should be possible to make a device not only flexible but stretchable or compressible.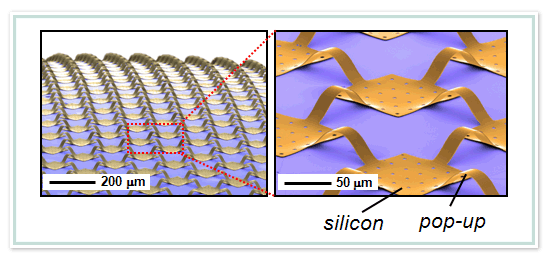 (The arch-shaped pop-up structure enable mechanical deformation)
From planar to non-planar (Elastomer defomation)
Third, transformation from planar to curvilinear structure enables device implantation on various complex substrates.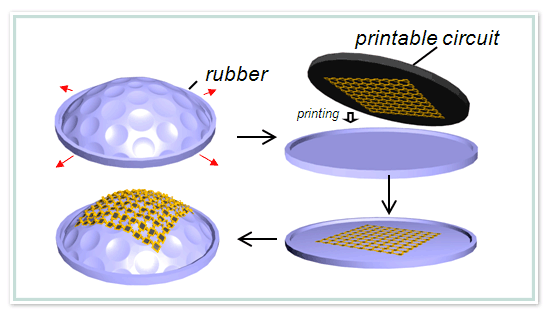 (An example of transferring wafer-based electronics onto a complex golf ball substrate)