Research
Metal-enhanced Fluorescence: Plasmonic Nanoparticles and Chromophores
Metal-enhanced fluorescence arising from the amplification of local electric field due to metal nanoparticles and plasmonic energy transfer from metal nanoparticles to chromophores can be useful especially for fluorophores with low quantum efficiency. We synthesize silver nanoparticles and nanosurfaces for metal-enhanced fluorescence by reducing silver ions. Effects of plasmonic nanoparticles on the excited-state dynamics of chromophores are investigated by femtosecond transient absorption spectroscopy.
Time-resolved Vibrational Dynamics: Femtosecond Stimulated Raman Spectroscopy
Vibrational spectroscopy provides the identity of molecule of interest by referring the molecular vibrational frequencies. Femtosecond Stimulated Raman Spectroscopy (FSRS) is a useful spectroscopic technique for investigating time-resolved vibrational dynamics of molecules in ultrafast time scales. We are currently building trying to expand our understanding in excited state dynamics including electronic transitions and vibrational relaxations by developing a FSRS technique.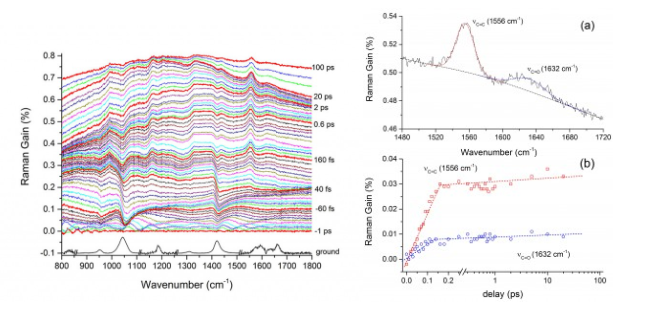 Time-resolved Electronic Dynamics: Femtosecond Transient Absorption Spectroscopy
Femtosecond dynamics of many interesting chromophores including natural and artificial photosynthetic complexes are of great interest. Femtosecond transient absorption measurements in the visible and near-infrared wavelengths coupled with ultrashort noncollinear optically parametric amplifier are used to investigate many interesting dynamics of many chromophores including Iridium dendrimers used in OLED and artificial photosynthetic complexes based on metal complexes.
Surface-enhanced Raman Scattering: Vibrational Signature and Adsorption Geometry
Raman intensities are significantly enhanced when organic molecular are adsorbed on metal nanosurface, which is called 'Surface-Enhanced Raman Scattering'. By using high sensitive SERS technique, we investigate changes in molecular geometry and structure of adsorbed molecules. Vibrational analysis and simulation results by the DFT method have been applied to understand observed Raman spectra of molecules.