Research
Tissue Engineering
Hydrogel based Scaffolds for Tissue Engineering
Tissue engineering aims at replacing the damaged tissues or organs with the artificially grown, living substitutes. For this purpose, cells along with the signal molecules, are seeded to a properly designed scaffold, which then leads to the attachment, proliferation, and differentiation of the cells to the target tissue or organ. Hydrogels are promising scaffold materials owing to characteristics like better biocompatibility, ability to fill irregularly shaped defects, implantation with minimal invasive surgery and a relative ease of incorporation of cells and biomolecules.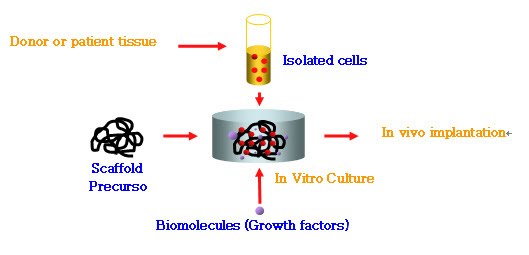 Drug Delivery Systems
Proteins and Growth Factor delivery
peptides, DNA, and RNA, have usually short half-lives in-vivo and are thus unstable and difficult to handle as compared to the traditional synthetic, hydrophobic small molecular weight drugs. Hydrogels that have the high excluded volume are one of the promising candidates as the delivery systems for these biological drugs since they can effectively protect the incorporated molecules from the surrounding biological environment, and generally show a minimal biocompatibility problem. The loading efficiency, the release profile, the degradation of the matrix, and the ease of injection method are the issues to be optimized.