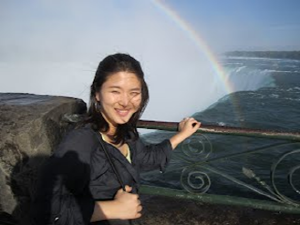 이은지 Eunji Lee
LAB NAMESelf-asseambled Organic Nanomaterials Lab. (SO_MAT)자기조립 유기 나노소재 연구실
E-MAILeunjilee@gist.ac.kr
TEL062-715-2730
WEBSITEhttp://el.gist.ac.kr/
RESEARCH FIELD
Self-Assembly Nanotechnology (small molecule, peptide, polymer)
Fabrication of organic/inorganic hybrid material
Transmission Electron Microscopy
EDUCATION
Ph.D. in Chemistry, Yonsei University, 2005-2009 (Advisor, Prof. M. Lee)
Dissertation: Stimuli-Responsive Supramolecular Nanostructures Based on Amphiphilic Rigid-Flexible Block Molecules
M.S. in Chemistry, Yonsei University, 2003-2005 (Advisor, Prof. M.G-. Choi)
B.S. in Chemistry, Yonsei University, 1999-2002
WORK EXPERIENCE
Associate Professor, Graduate School of Analytical Science and Technology, Chungnam National University, 2011-2018
Invited Researcher, Korea Basic Science and Institute, 2011-2018
Post-doc., Polymer Science and Engineering, University of Massachusetts, Amherst, 2010-2011 (Advisor, Prof. R. C. Hayward)
Post-doc., Seoul National University, 2009-2010
Research Assistant, Yonsei University, 2005.03-2005.08
REPRESENTATIVE_PUBLICATIONS
1. I. Kim, E.-H. Han, W.-Y. Bang, J. Rye, J. Y. Min, H.-C. Nam, W.-H. Park, Y. H. Chung, E. Lee, "Supramolecular Carbon Monoxide-Releasing Peptide Hydrogel Patch", Adv. Funct. Mater. 2018, 1803051. Selected as a back cover
2. S.-M. Jin, I. Kim, J. Lim, H. Ahn, E. Lee, "Interfacial Crystallization-Driven Assembly of Conjugated Polymers/Quantum Dots into Coaxial Hybrid Nanowires: Elucidation of Conjugated Polymer Arrangements by Electron Tomography", Adv. Funct. Mater. 2016, 26, 3226-3235.
3. M.-K. Park, S. Jun, I. Kim, S.-M. Jin, J.-G. Kim, T. J. Shin, E. Lee, "Stepwise Drug-Release Behavior of Onion-Like Vesicles Generated from Emulsification-Induced Assembly of Semicrystalline Polymer Amphiphiles", Adv. Funct. Mater. 2015, 25, 4570-4579. Selected as a front cover
4. Y.-J. Kim, C.-H. Cho, K. Paek, M. Jo, M.-k. Park, N.-E. Lee, Y.-j. Kim, B. J. Kim, E. Lee, "Precise Control of Quantum Dot Location within the P3HT-b-P2VP/QD Nanowires Formed by Crystallization-Driven 1D Growth of Hybrid Dimeric Seeds", J. Am. Chem. Soc. 2014, 136, 2767-2774.
5. E. Lee, B. Hammer, J.-K. Kim, Z.Page, T. Emrick, R. C. Hayward, "Hierarchical Helical Assembly of Conjugated Poly(3-hexylthiophene)-b-poly(3-triethylene glycol thiophene) Diblock Copolymers", J. Am. Chem. Soc. 2011, 133, 10390-10393.