Thermo LTQ Orbitrap
The Orbitrap™ mass analyzer was first described in 2000 and has now reached the status of a mainstream mass spectrometry technique. The key performance characteristics of the Orbitrap mass spectrometer are, above all, easily and routinely achievable ultra-high resolution (>100,000) and reliable mass accuracy, together with the fact that all these characteristics are available to the user any time without compromising sensitivity. Combination of the Orbitrap detector with an external mass analyzer such as a linear ion trap enables multiple levels of fragmentation (MSn) for the elucidation of analyte structure and allows coupling with continuous ionization sources such as atmospheric pressure ionization source. The analytical performance of the Orbitrap mass spectrometer supports a wide range of applications from routine compound identification to the analysis of trace-level components in complex mixtures, be it in proteomics, drug metabolism, doping control or detection of contaminants in food and feed.
Dionex Ultimate Dual 3000 Standard Dual UHPLC
The Thermo Scientific™ UltiMate™ 3000 Standard Dual System offers numerous options for improving the information yield of analyses and can still be operated as a regular single-channel system. The dual system makes it easy to configure Online-SPE, Orthogonal, Parallel or Tandem separations, Inverse Gradient operations and Fast Application Switching. With its two fully integrated, independently operating gradient pumps and smart column switching, it can maximize throughput, resolution, or sensitivity.
Dionex Ultimate Dual 3000 RSLCnano
The Thermo Scientific™ UltiMate™ 3000 RSLCnano modular system offers precision, productivity and performance for all your low-flow UHPLC needs. The wide flow range of the high pressure dual gradient pump and the additional micro flow ternary gradient pump makes it suitable for all low flow applications, such as bottom-up and top-down proteomics, or metabolomics. Use dedicated application kits to easily setup standard and advanced workflow solutions.
LC/MS : Agilent 6520 Q-TOF + Agilent 1260 HPLC
This is a hybrid mass spectrometer coupling a quadrupole with a time-of-flight (TOF) mass analyzer on which the exact masses of trace-level biomolecules including protein, lipid, and carbohydrate can be determined. Structural information on a particular molecule can be elucidated from tandem mass spectrometry in which precursor ions isolated on the quadrupole is fragmented by collisional activation with neutral gas and product ions are analyzed by the TOF mass analyzer.
More info, https://www.agilent.com/en-us/products/mass-spectrometry/lc-ms-instruments/6500-series-accurate-mass-quadrupole-time-of-flight-(q-tof)-lc-ms
MS : Thermo LTQ Velos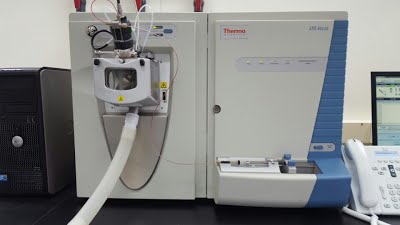 This LTQ velos mass spectrometer is a duel-pressure linear ion trap equipped with an electrospray ionization source. The dual-pressure ion trap and S-Lens ion optics combine to deliver increased ion transmission along with better trapping and fragmentation efficiency. The result is the faster and more sensitive ion trap for all applications. Repeated MSn analysis is possible and can be applied to ambient ionization technology such as paperspray.
More info, http://tools.thermofisher.com/content/sfs/brochures/BR-63051-Thermo-Scientific-LTQ-Velos-Dual-Pressure-Linear-Ion-Trap.pdf
Deep Freezer : Ilshinbiobase JABA 8520
This LTQ velos mass spectrometer is a duel-pressure linear ion trap equipped with an electrospray ionization source. The dual-pressure ion trap and S-Lens ion optics combine to deliver increased ion transmission along with better trapping and fragmentation efficiency. The result is the faster and more sensitive ion trap for all applications. Repeated MSn analysis is possible and can be applied to ambient ionization technology such as paperspray.
More info, http://tools.thermofisher.com/content/sfs/brochures/BR-63051-Thermo-Scientific-LTQ-Velos-Dual-Pressure-Linear-Ion-Trap.pdf
Thermo Scientific HERAEUS BB 15 : CO2 incubator
Combi R515 : Multi-purpose Centrifuge​